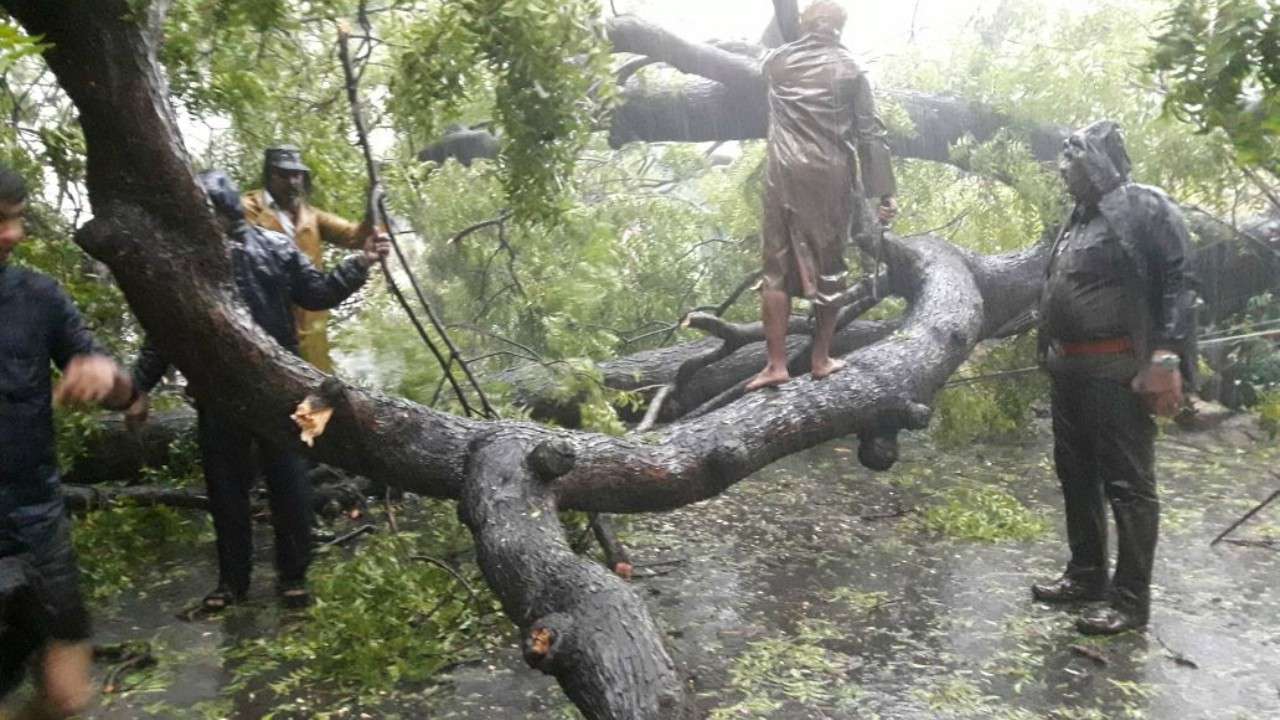 The deep depression over Camorin Sea has intensified into a cyclonic storm Ockhi which has triggered heavy rains in Tamil Nadu and Kerala. It is likely to intensify into severe cyclone storm moving towards Lakshwadeep islands in the next 24 hours.
IMD has issued warnings about rainfall at most places with heavy to very heavy rainfall at isolated places very likely over south Tamil Nadu & south Kerala during next 24 hours and isolated heavy falls over interior Tamil Nadu and Kerala during subsequent 24 hours.
For Lakshwadeep, the prediction is for heavy to very heavy rainfall at a few places and isolated extremely heavy falls in the next 48 hours. IMD has predicted damages in south Kerala (Alappuzha, Kottayam, Idukki, Kollam, Pathanathitta, Thiruvananthapuram districts), adjoining districts of south Tamil Nadu (Kanyakumari, Tutukudi and Tirunelveli districts). The situation though is likely to be much worse in Lakshwadeep with predictions of damage to power and communication lines due to breaking of tree branches and uprooting of trees. Crops and mud houses are also likely to face the brunt of Cyclone Ockhi.
The authorities have warned fishermen along & off Lakshadweep Islands are advised not to venture into the sea during next 48 hours. Similar warnings have been issued to fishermen in South Kerala and South Tamil Nadu.
4 dead in Sri Lanka:
A powerful storm coupled with heavy rains hit several parts of Sri Lanka, killing at least four persons and disrupting air traffic and essential services, authorities said today. Two Colombo-bound Srilankan Airlines flights from Chennai and Bangalore were diverted to the Mattala Airport in the deep south Hambantota region due to bad weather. The schools in the Central, Western and Southern provinces were closed.
Many houses were partially damaged, mainly in the central hill districts, and power supplies have been hit.
At least four people have been killed due to heavy rains and gusty winds which swept through most parts of the island last night, police said. The deaths were caused by falling trees. The Colombo National Hospital officials said at least 15 people had been treated for injuries. Addressing Parliament, Prime Minister Ranil Wickremesinghe said that he had directed officials to pay each family affected by bad weather rupees 10,000 as emergency assistance. "Heavy rains, Gusty strong winds about 60-70 kms per hour can be expected over the island and rough seas can be expected further in the deep and shallow sea areas around then island too," a statement from the meteorological department said.
The severe weather was caused due to a depression in the south-western regions which was later developed into a deep depression. It was located 200 kms away from capital Colombo. In the landslide prone central hill areas, measures have been taken to evacuate people, disaster management officials said. The public has been asked to remain vigilant as the water levels in the rivers were rising.
Source: India News